Bitcoin
Big Bitcoin Investors – Who Are They: In the Footsteps of Tesla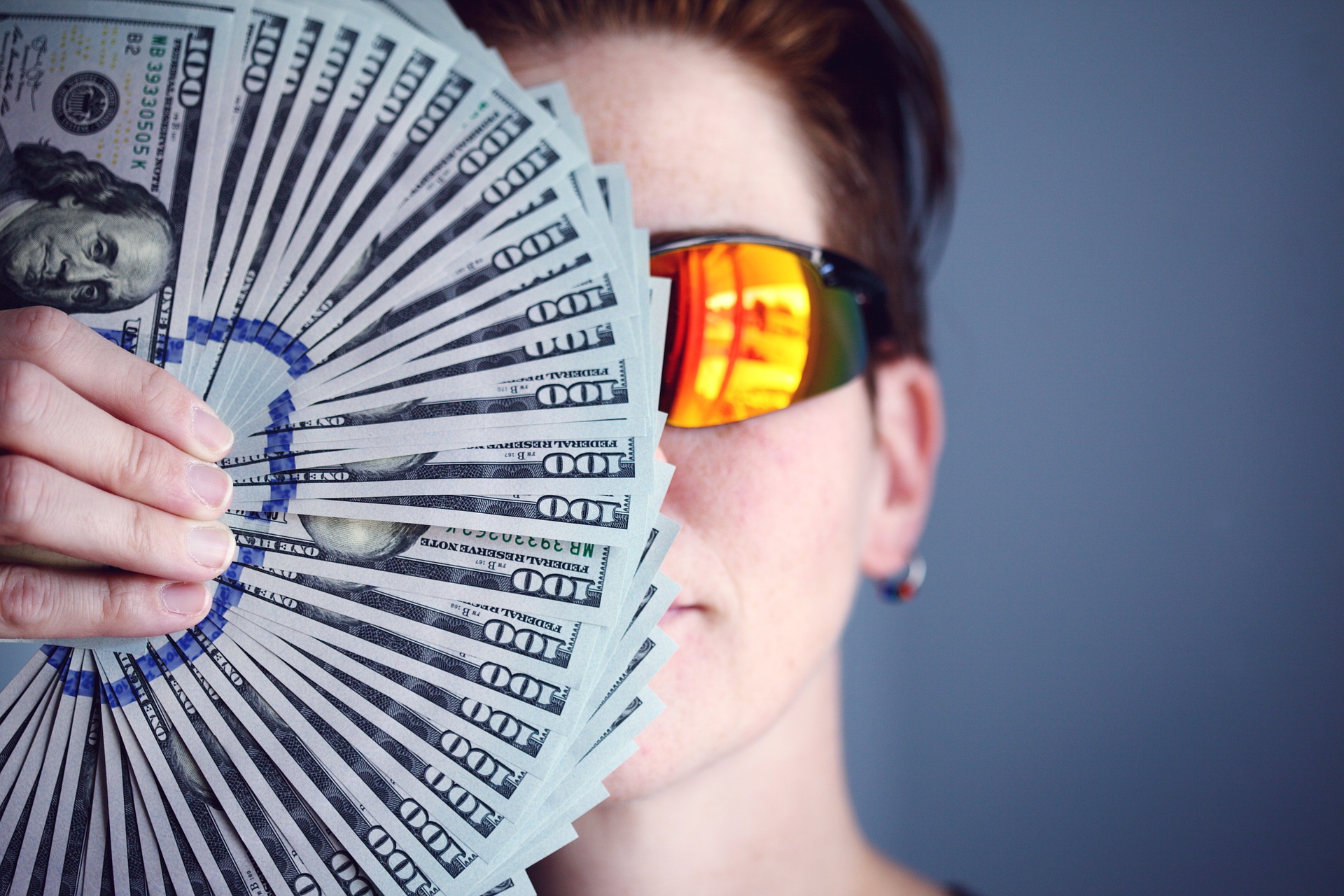 Two years ago, large corporations deemed it a good idea to throw stones at the cryptocurrency industry, with Bitcoin and other cryptocurrencies under fire. Today, many market participants have had to radically change their view of this new financial instrument and even join the crypto community.
Why are these big players changing their position, and what organizations can be called major bitcoin investors? Learn from our articles!
Bitcoin has become attractive to business
Cryptocurrency has been around for just over 12 years. Of course, this is nothing compared to traditional money, but despite its youth, cryptocurrencies are developing much faster than traditional financial instruments due to their technical features.
This rapid development has helped Bitcoin (BTC), the most highly capitalized digital asset, to pass through a number of important stages in just a few years. We suggest that you look at these in more detail.
№1 – Launching and publishing among crypto enthusiasts
The first block in the cryptocurrency network was created on January 3, 2009. Two days later, on January 12, the creator CurrencyAnd the satoshi Nakamoto sent crypto enthusiast Hal Finney ten bitcoins.
Later, on October 5 of the same year, the New Liberty Standart exchange launched cryptocurrency trading. Before 2011, bitcoins were mined (coins were issued from the network) and used for payment exclusively by crypto enthusiasts.
№2 – the first wave of mass use
In 2011, a dark web market called Silk Road began accepting Bitcoin. Sellers have been drawn to the anonymity of the cryptocurrency, which has shielded their businesses from prosecution.
In many ways, thanks to the Silk Road, Bitcoin has gained fame as a financial tool for money laundering. Despite the shadow it casts on cryptocurrencies, the dark web market continues to help popularize the project. As a result, Bitcoin has entered a new phase of development.
№3 – The second wave of crypto audience growth
The Silk Road eventually closed under a cloud of scandal in 2013. That same year, bitcoin broke the billion-dollar capital mark and entered a phase when it was touted as an alternative to fiat currency. From 2014 to 2017, many large companies began to regulate the means to accept bitcoins as payment.
Bitcoin gained more momentum after the cryptocurrency halving (the reward level for mining halving) in 2016 and preparations were made to launch BTC-based futures. However, after peaking at $20,000 in December of 2017, the crypto winter came into the market and lasted until the spring of 2019. This crisis helped drive many speculators and vulnerable participants out of the market.
№4 – Entry of institutional investors into the market
After peaking in December 2017, the value of Bitcoin suffered a prolonged decline, which lasted until the summer of 2019, when it experienced a growth spurt. This was followed by a prolonged correction that brought the cryptocurrency into a new phase of growth, which began at the end of 2020.
This was a period of positive movement similar to the one in 2017 that followed the halving. But, unlike the previous stage of growth, Bitcoin was fully prepared for the new stage in 2020.
FirstThe cryptocurrency has already secured the status of an alternative financial instrument. The coronavirus pandemic made this easier when many countries tried to rescue their economies by printing new batches of currency and injecting them into their economies. This "quantitative easing" has been widely practiced in the United States, for example.
An artificial increase in the money supply of an economy can adversely affect the value of its currency. Unlike the dollar and other traditional currencies, the maximum issuance of Bitcoin is limited – about 21 million Bitcoins will be issued in total. At the same time, the rate of BTC issuance is constantly decreasing with the help of halving, which makes it possible for Bitcoin to maintain and even increase its value.
With some countries choosing to engage in quantitative easing, many market participants are beginning to consider using BTC as a savings asset. This was clearly demonstrated when Americans started buying massive amounts of cryptocurrency with the government benefits they received during the coronavirus pandemic.
SecondIn the market, many large companies have appeared that support the digital asset market in one way or another. In addition, the acceptance of cryptocurrency as a payment method is no longer something unusual, and the global market capitalization of cryptocurrencies has approached Apple.
Comparing the global cryptocurrency market capitalization to that of large companies, as of April 7, 2021.
Source: Twitter Coin98 Analytics
ThirdMany market participants, including managers involved in capital management, became convinced of the stability of Bitcoin's correction mechanisms. The fact is that each halving reduces the mining speed of the already scarce BTC, which leads to a shortage of assets in the market. The history of this cryptocurrency has shown that when using this mechanism, the price of Bitcoin goes up. This is largely due to the fact that many companies have decided to invest in BTC.
In short, this is how Bitcoin has gone from being a little-known digital asset with a dubious reputation to a financial instrument with many big investors.
Big Bitcoin Investors – Who Are They?
There are many companies in the market whose investments in BTC have had a huge impact on the cryptocurrency. Among them is an analytical software provider called MicroStrategy.
In August of 2020, the organization acquired 21,454 BTC, which was worth about $250 million at the time of the transaction. MicroStrategy became the first public company to invest a portion of its capital in Bitcoin. After that, the organization has repeatedly announced increases in its investments in BTC.
One of MicroStrategy's recent purchases fell on May 18, 2021, when the price of bitcoin fell to $30,000 amid mounting regulatory pressure from China. According to the company's CEO, Mike Saylor, MicroStrategy has raised a total of 92,079 BTC, taking into account the new purchase.
To see the impact of MicroStrategy's decision to invest in Bitcoin, carefully look at this chart showing the company's stock price history. The blue vertical line indicates the day she made her first Bitcoin purchase:
MicroStrategy stock chart. Source: TradingView
Another company that has had a huge impact on the bitcoin site is Tesla. In early February 2021, the electric vehicle manufacturer mentioned to the US Securities and Exchange Commission (SEC) that it had purchased cryptocurrency for $1.5 billion. The market reaction to Tesla's decision can be seen on this BTC chart: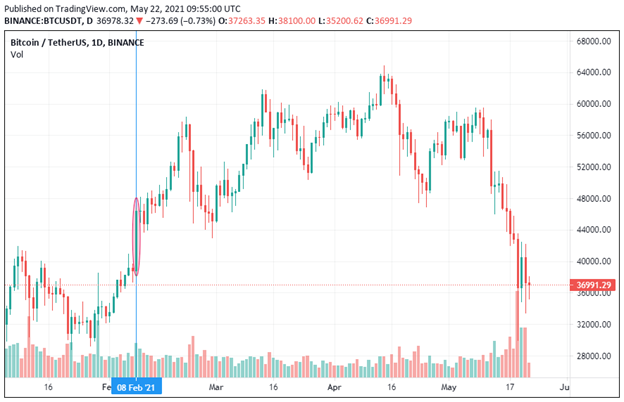 Bitcoin chart. The blue vertical line marks the day the Tesla report was published, which contains information about the company's $1.5 billion BTC purchase. The pink oval shows the movement of Bitcoin after the press release. (Source: TradingView)
Interesting fact! At the beginning of March 2021, analysts at Piplsay released a study showing that about 40% of American investors are guided by the tweets of Tesla founder Elon Musk when making investment decisions.
Given the faith that many market participants have placed in the developer, it is not surprising that the cryptocurrency exchange rate surged after representatives of his company announced a BTC purchase.
MicroStrategy and Tesla's decisions to invest in cryptocurrency prompted many other institutions to quickly adjust their investment strategies. Here are some examples:
In early December 2020, the oldest insurance company in the United States, MassMutual, Buy $100 million in BTC.
In early March 2021, Altshuler Shaham, a large Israeli pension fund, invested $100 million in Bitcoin. Information about this appeared in the media.
In early April 2021, Meitu, a Chinese technology developer, a plus Its investment in cryptocurrency amounts to $100 million. In total, the company had 940 BTC at its disposal. Meitu's $100 million crypto wallet includes 31,000 Ethereum, the second largest cryptocurrency by capitalization.
At the end of April 2021, Nexon, a major Japanese video game developer, Buy Bitcoin worth $100 million.
In the early days of May 2021, MercadoLibre, the e-commerce giant in Latin America, spend $7.8 million in BTC.
It is very likely that members of the crypto community will often hear about cryptocurrency purchases made by large companies in the future.
Is it worth taking an example from Tesla and Co?
The fact that large companies have started investing in Bitcoin can be seen as a sign of confidence in the new financial instrument, which makes it more attractive in the eyes of market participants. This change of cryptocurrency position can be used to make a profit.
The last Bitcoin halving occurred in May of 2020. Many members of the crypto community believe that this digital asset will be able to breach the $100,000 mark during the current growth cycle. This possibility is confirmed by the predictions of the BTC forecast model developed by the famous analyst PlanB, which takes into account the bitcoin mining speed, the halving effect, and the bitcoin movement patterns in the previous periods.
PlanB is confident that the drop in the value of BTC seen at the end of May 2021 presents a great opportunity to buy Bitcoin at an attractive price.
# bitcoin It oscillates in the dark blue band around the value of the S2F model. Buying opportunities like today are rare (1st quarter of 2019 when I wrote the S2F article, March 2020 due to coronavirus, and now). Life is all about choices. https://t.co/rlb5dsIFSg pic.twitter.com/rQpTvzR3eW

– PlanB (@100 trillion USD) May 22, 2021
You can find many options for buying cryptocurrencies with rubles on the web. Unfortunately, not all of them deserve attention. On many platforms, there is a risk of encountering pitfalls: large commissions and uncomfortable conditions embedded in fine print.
At the same time, there are also many decent options on the market. For example, the wholly owned Russian platform Alfacash allows you to profitably buy bitcoin and other cryptocurrencies with rubles.
Unlike exchanges, you do not need to verify your account to work on the site. It only takes a few seconds to register, and you can start buying cryptocurrency immediately afterwards
interesting! On Alfacash, among other things, you can buy digital assets with credit cards.
Alfacash also includes functionality for exchanging and selling digital assets, as well as other services necessary to work comfortably with these new financial instruments.
Image by 

Sharon McCutcheon

 from 

Pixabay