Bitcoin
Green Beli raises $1.1 million for its eco-friendly NFT gaming project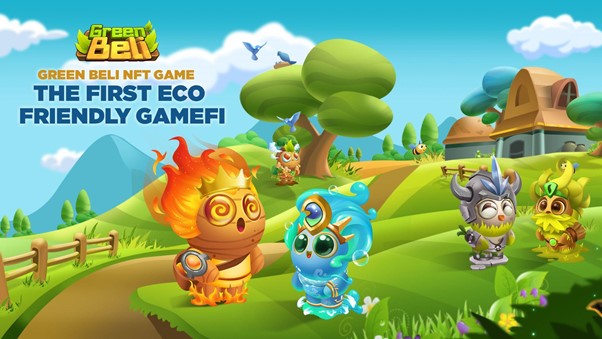 There is no doubt that climate change has brought many problems to the world. Human activities, mainly focused on industrialization, have created a serious issue that will only require the concerted efforts of all to solve it. Although we cannot dispute the innumerable benefits of industrialization, it is climate that drives the fallout from human affairs.
The past year has seen world leaders screaming about tackling climate change and setting goals to save the world from frequent wildfires, coastal flooding, animal extinctions, rising sea levels, carbon emissions and more. However, more collaborative efforts are urgently needed to bring about the kind of change that is needed.
Technology and manufacturing are often accused of climate deterioration. While this is true, technology can still play a huge role in bringing about change that is overwhelming the entire world. Instead of finger pointing, technology should be deployed as a way to correct the climate. This is where the blockchain comes in.
Funding initiatives have gained significant traction from investors
buy green It may be relatively new to the scene, but it still addresses the problem the world has been facing for decades. Founded in 2019, Green Beli's mission is to promote an eco-friendly lifestyle and reduce plastic waste by engaging in awareness campaign through the media. Green Beli has contributed greatly to the environment, and now it has come up with a new project known as Green Beli NFT Game, the project also envisions combining the green map and configuration project with the game, thus building the green metaverse. They have great plans for a bigger contribution to the NFTs & Gaming ecosystem.
The latest project is Green Beli's way of raising funds to promote its environmentally friendly activities. The Green Beli commits a minimum of 30% of revenue from sales of tree seeds, land and NFT items, or 10% of the total Green Beli Ecosystem Fund, earmarked for community and environmental initiatives. The game is based on the concept of saving the world one tree at a time and uses the blockchain platform to achieve its goal. Characters in the form of Green Hero NFTs – fire, earth, wood, water and metal. These trees are upgradable and come in different rarities
The financing round saw participation from BSCstationand Basics Capital and some of the biggest names in blockchain venture capital. Onebit, FIM Ventures, AU21, X21 and Momentum 6 were among the notable names participating. Green Beli has raised $1.1 million in funding, to highlight ecosystem growth around environment and sustainability. Green Beli was also named one of the top 6 gaming projects in the Game2Blockchain event which was accelerated by Axie Infinity, Tomo Chain, Kyber Network and other partners.
An in-game NFT marketplace allows trading between different players. Players can buy NFT items and lands where they can plant trees. Planting a group of trees entitles you to get PvP, and you can plant to earn more rewards. Additionally, you can boost your trees' stats with Fusion.
Revolutionizing the NFT gaming scene with a solid roadmap
Green Beli NFT uses GRBE tokens as a medium of exchange. After successful IDO on BSC station, The token is currently listed on the leading BSC DEX, Pancakeswap. It is the original game code that allows the purchase of in-game items. These tokens can also be given as a reward. The growth of the game will positively affect the price of the token, and the more trees you collect, the more profit you can make. In addition, GRBE tokens will be distributed, and new tokens will be generated to maintain the game's growth and price. Green Beli's current business plan also includes setting up an open seed sale tree with 20,000 seeds by the end of September.